Lightning-fast updates, easy installation, and zero detection? Sounds like the work of the LiveWire Dash GPS Tracker! Operating over a 4G network, this tracker provides updates on location every 60 seconds, keeping you aware of your vehicle's whereabouts anywhere it goes in North America. You can monitor ALL of your devices via our exclusive GPS platform and app.
By connecting to the vehicle's power source, this device works with no batteries. You'll never have to worry about power loss, no matter how long the road trip! This device is undetectable, perfect for tracking both fleets and singular vehicles in secret. This GPS is truly best-in-class and ideal for helping you keep an eye on your precious cargo.
SKU: G-LiveWireGPS
In The Box
Livewire Dash
Wiring Harness
Wiring Guide
Quick Start Guide
SIM card included and pre-installed
---
Special Feature: Know your car's location in real time with this battery-free, by-the-minute tracker
Dimensions: 3.5" x 2.15" x 0.5"
Power: Hardwired to use your car's power
Transmission: 4G Cellular Coverage Across North America
Storage: Cloud Web Server
Service: Plans from $19.99 to $29.99
This GPS unit ships configured to track in 60 second intervals. We will happily modify your tracking interval at any time after purchase. Please email support@brickhousesecurity.com with your request.
Physical Specs
 Dimensions (LxWxH): 3.5" x 2.15" x 0.5", 89mm x 55mm, 12mm
 Weight: 3.28 oz, 93 grams
 Water Resistance: IPX5 Compliant
GNSS Specs
 GNSS Type: u-blox All-in-One GNSS Receiver
Environmental Specs
 Operating: -4ºF to 131ºF (-20ºC to 55ºC)
 Sensitivity:
 -161dBm Tracking
 -145dBm Cold start (unaided)
 Position Accuracy (CEP) Autonomous: < 2.5m
 TTFF (Open Sky) Cold Start: 30s Average, Hot Start: 1s Average.
GSM Specifications
 Frequency: -900/1800 MHz
 Data Transmission: GPRS multi-slot class 33 (33 by default), EDGE multi-slot class 33 (33 by default)
Billing begins 7 days after purchase.
Need a deal on service for multiple trackers? Call for volume pricing!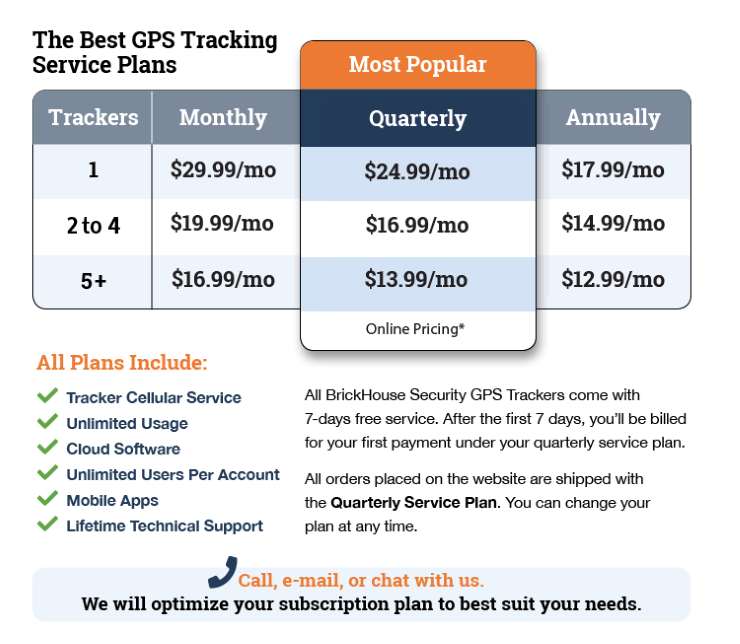 Purchase of this GPS tracker requires the selection of one of the above service plans. Your service plan includes the cellular service and cloud software required for use.
After checkout you will be able to choose your preferred service plan. If you do not make a selection you will be enrolled in our default quarterly basic plan.
This GPS tracker ships activated for immediate use. Just power up and you are ready to start tracking. Billing begins 7 days after purchase.