Introducing the Spark Nano 7, the most advanced version of our the best-selling, portable GPS tracker. The included extended battery ensures that you get all the time you need for tracking, increasing your battery life to up to 2 months longer than with the traditional battery (based on normal use of approximately 1 hour per day.) With the 4G cellular service that offers the fastest reporting in the U.S., you'll have confidence knowing exactly where your GPS tracker is at all times.
The Spark Nano 7 is the most portable and easy-to-use GPS tracker on the market. This device features real-time location updates, speed alerts, and a smartphone app that keeps you constantly connected. So whether you're using the Spark Nano 7 to track the movements of your valuable assets, to monitor the movements of business vehicles, or anything else, the Spark Nano 7 will provide you with reliable coverage and accurate updates as often as you need. With this exceptionally long battery life, the Spark Nano 7 is ideal for long-term surveillance. It is one of the most popular devices for use by private investigators and law enforcement.
Additional Features of the Spark Nano 7
The Spark Nano 7 is more than the smallest and most portable device on the market, it is also a market leader in reliability, customer satisfaction, and accurate, continuous reporting with 4G service.
Additional features that ensure you get the best service possible out of your Spark Nano 7 include:
Long-lasting battery that will provide you with up to 2 additional months of tracking with regular use
Slap and track option allows you to easily stash the tracker in a container or attach it to a vehicle and begin tracking its whereabouts instantly
Custom settings options like geofences and alerts so you're notified about what's most important to you, like when your cargo makes an unexpected stop on the road or your teen driver goes over the speed limit
Panic button allows you, your employee, your child, or whoever is carrying the Spark Nano 7 to call for help in an emergency
Waterproof case protects the Spark Nano 7 and ensures your location will keep reporting even when exposed to unexpected weather conditions
Free Smartphone App for Android and iPhone so you can monitor your Spark Nano 7's location from anywhere.
Rapid Track lets your switch to a faster tracking speed when you need more details about what you're tracking
4G cellular service functions anywhere in North America, allowing you to track anywhere in the U.S., Canada, and Mexico. Never worry about losing service when crossing borders in North America again!
Need More Than One Spark Nano 7 for Business?
Looking for multiple units for large-scale tracking? We offer discounts on hardware and service when you purchase multiple GPS devices. Give us a call so we help you figure out the best GPS tracking option for you.

This product is offered for the express purpose of securing personal or company property and ensuring the safety of individuals with their consent.
In The Box

Spark Nano 7.0
Wall Charger
User's Guide
Our GPS Units ship configured to track in 1 minute intervals. We will happily modify your tracking interval at any time after purchase. Please email support@brickhousesecurity.com with your request.
Internal Cellular Antenna
Data Support SMS, UDP or TCP
Operating Bands: B2/B4/B12/B13, Frequency: 900/1800 Mhz
Transmitter Power
Location Accuracy: 2.5 meter CEP (with SBAS)
Tracking Sensitivity: -Cold Start: -145 dBm, Tracking: -161 dBm
Environmental
Operating Temperature -20º to +55º C

Physical


Dimensions: 3.0" x 1.58" x 1.0"
Weight 3.3 oz (79g)
mini USB Connector/Charging


Battery


Rechargeable Lithium-Ion 2600mAh



Carrier/Regulatory Approvals
AT&T, FCC, PTCRB, RoHS Compliant

Billing starts 7 days after purchase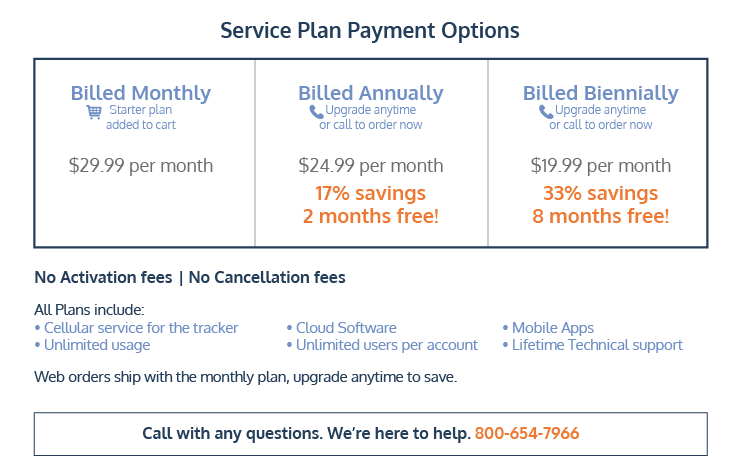 Your service plan includes the cellular service and cloud software required for use. This GPS tracker ships activated for immediate use. Just power up and you are ready to start tracking.
When you purchase a product from BrickHouse Security, you can expect exceptional customer care and support from our team. These are our guarantees:
Tech Support: All BrickHouse products come with free, unlimited lifetime technical support. Call (800) 654-7966 for assistance.
Warranty: All non-subscription devices purchased from Brickhouse Security include a 90-day protection plan, giving you the option to return within 30 days, replace, or receive technical support. All subscription devices are covered by a lifetime warranty, giving you the option to replace or repair your device as long as you have active service with us.
Returns: BrickHouse Security stands behind our products with a 30-day money back guarantee return policy. Return requests must be made within 30 days receiving your order. Requests made after 30 days may be denied.