The Cradlepoint COR series is built for your M2M network. It's an affordable highly-featured, compact router designed for critical business and enterprise applications that require 24 x 7 connectivity. With its compact size, sleek metal case, mounting bracket, external mobile broadband and Wi-Fi antennas, COR is ideal for use in high-availability applications like ATMs, kiosks, surveillance, vehicles, etc.
Get instant network connectivity with a Cradlepoint COR, just activate the built-in modem and go. It also supports traditional wired data networks like DSL or cable for maximum network flexibility. Increase your Internet availability and ensure maximum uptime with business continuity features like failover/failback standard in Cradlepoint COR. When configured, the router detects network failures and seamlessly switches over to another active connected data source - keeping your network online. COR also provides secure and reliable VPN functionality, allowing users to create, manage and terminate up to 5 concurrent IPSec VPN sessions. It allows for secure access to company networks for enterprise applications and provides a secure way to transmit sensitive data to and from a remote site.
This Cradlepoint COR 600BLP4-NNN works with BrickHouse Security's B-Link Secure services, which enables cellular communication without requiring a WiFi connection. This 4G router allows wireless or wired security cameras to connect seamlessly to the cellular service and is ideal for use in temporary or remote deployment where remote monitoring is essential. Common use cases include onboard public transportation and in retail stores or pop-up shops. Can be used as a mainline or back-up connectivity.
For additional security, a static IP option is available. Plans start as low as $19.99, with no contracts and affordable fees. Contact our team directly to learn more.
Brand: Cradlepoint
SKU: 600BLP4-NNN
In The Box
Broadband Router w/ Mounting Bracket
2x External 3G/4G Mobile Broadband Modem Antennas (SMA)
External WiFi Antennas Reverse SMA*, 5 dBi gain
12V/1.5A Power Supply w/ Locking Connector
---
Special Feature: This is ideal for deployment as a primary connection solution where wired Internet is not available.
Dimensions: 4.6" x 4.1" x 1.1"
Power: 12V / 1.5A power supply w/ locking connector; GPIO/power cable available
Transmission: One 10/100/1000 Ethernet port (WAN or LAN), one 10/100 (WAN or LAN)
Storage: NetCloud Manager
Service: Plans starts at $19.99
WAN
 Integrated 4G LTE modem (with DC-HSPA+ failover)
 Dual-modem capable with optional COR Extensibility Dock
 One 10/100/1000 Ethernet port (WAN or LAN), one 10/100 (WAN or LAN)
LAN
 One 10/100/1000 Ethernet port (WAN or LAN), one 10/100 Ethernet port (WAN or LAN)
Ports
 Power
 2-wire GPIO
 Two Ethernet LAN or WAN
 Two cellular antenna connectors (SMA)
 Two WiFi connectors* (reverse SMA)
 Cradlepoint COR Extensibility Dock Port/custom cable Port (15-pin) with 4 GPIOs, power input, ignition sensing and 5 V out
Cloud Managed
 Yes, with NetCloud Manager
Temperature
 -20° C to 60° C (-4° F to 140° F) operating
 -30° C to 70° C (-22° F to 158° F) storage
Humidity (non-condensing)
 5% to 95% operating, 5% to 95% storage
Power
 Idle: 0.17 A @ 12 V
 Typical: 0.45 A @ 12 V
 Max: 1.2 A @ 12 V d
Physical
 Size: 4.6x4.1x1.1 inches
Weight
10.1 oz. (285 g)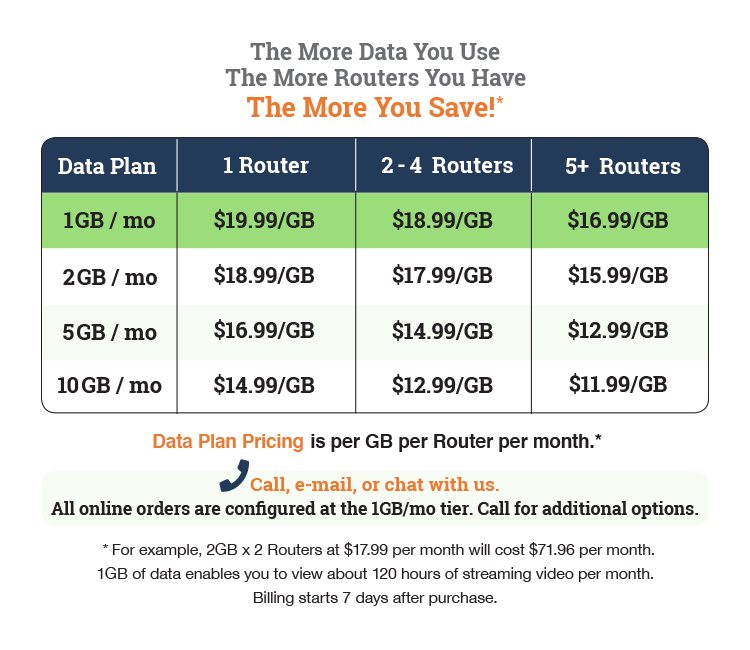 If you exceed 1GB in a particular month, the following month you will be billed $24.99/GB $19.99/GB for any additional data used. Your service won't be throttled or suspended.
We recommend using the base data allotment for a few months to determine your regular data use. If you find you're consistently using more than 1GB of data per month and would like a larger data allotment, we're happy to upgrade your plan on request. However, the base plan is the most flexible way to keep costs as low as possible.
Call for more information.