The Ultimate in Professional Vehicle Tracking

The Livewire is a completely covert GPS tracker that easily installs to a car's power source. With 30-second location updates and an external antenna to maximize performance, this powerful hidden car tracker puts you in total control of individual vehicles or fleets - and drivers will never know it's there unless you tell them. Perfect for tracking fleet vehicles, this best-in-class GPS device features improved accuracy, and it's designed specifically to make locating and routing vehicles as simple as possible.

What sets the Livewire apart from similar hardwired trackers is its backup battery. Enjoy an unlimited power supply while the car is running and, when the car is off, it will continue to provide location information; ideal for recovering a vehicle if it's been stolen. The backup battery will last nearly 12 hours.

Why Livewire?
Hardwired, No Batteries Required
30-Second Location Updates
Rapid Track Lets You Switch to Even Faster Tracking When You Need it
External Antenna for Increased Accuracy
Up to 12-Hour Backup Battery
This vehicle tracker runs on BrickHouse Security's exclusive GPS platform, giving you a full range of features. Through our easy-to-use platform, you're able to receive speed alerts via text or email if a vehicle exceeds any speed you select. And our new Rapid Track feature lets you switch to an even faster tracking speed for brief periods of time when you need it most (desktop and laptop use only).

You can also set geofences, which send you an instant message the moment a vehicle enters or exits a predefined zone. Access highly detailed reports of a car or fleet's travel history, in addition to viewing the tracker's location in real time on three customizable map views. Access all of these features from any device with an internet connection, and check in on your vehicle location conveniently using the free, intuitive app.

Once your tracker has been installed, it may take up to 24 hours for it to connect to the network and begin reporting. Also note that this unit does not track outside the US. If you need an extra antenna or yours has broken, see our easily-installed Replacement Antenna for the Livewire GPS Vehicle Tracker. Or, if you need a new harness, see our Replacement Harness for Livewire GPS Vehicle Tracker.

Interested in purchasing multiple units? Discounted tracking rates available. Call for details.
Need your GPS tracking device installed? BrickHouse Security works closely with accredited installers who use approved standards and procedures for installing your GPS system products. Learn more here.

See the Service Plan tab for important details.

BrickHouse Security does not support the illicit use of GPS tracking devices. This product is offered for the express purpose of securing personal or company property, and ensuring the safety of individuals with their consent.
In The Box

Livewire Base Unit
Wiring Harness
Antenna
Dimensions: 4.09" x 3.66" x 1.02"
Power: Wired or Plug-In with Optional OBD Connector
Transmission: Cellular USA Coverage
Storage: Cloud Web Server
Service: Plans from $19.99 to $29.99
This GPS unit ships configured to track in 30 second intervals. We will happily modify your tracking interval at any time after purchase. Please email support@brickhousesecurity.com with your request.
Physical Specs
Material: 2-piece ABS enclosure
Dimensions (LxWxH):
4.09" x 3.66" x 1.02"
Weight: 4 ounces, 114 grams
GPS Antenna Conn.: SMA
Cellular Antenna Conn.: SMC
Power/Aux Connector: 20-pin 3mm Molex
Data Connector: 10-pin 3mm Molex

Electrical Specs
Operating Voltage: 8 to 30V DC
Power Consumption: (typical, @ 12.8 vdc)
-Operating: 95mA (avg), 680mA (peak Tx)
-Standby 2 (SMS/UDP Wake-Up): 24mA
-Standby 1 (Local Wake-Up): 13mA
-Sleep (Ignition Only Wake-Up): <1mA

Environmental Specs
Operating: -22ºF to 185ºF (-30ºC to 85ºC)
Storage: -40ºF to 185ºF (-40ºC to 85ºC)
Humidity: 5 to 95% non-condensing
Shock and Vibration: SAE J1455
EMC/EMI: SAE J1113
GPS Technology (SuperSense Technology)
GPS Receiver: 50-Channel L1 C/A Code, WAAS/SBAS
Sensitivity:
161dBm Tracking, Nav, Reacquisition
147dBm Cold start (unaided)
Horizontal Accuracy: 2.5m, 2.0m SBAS (CEP 50%)
Time-to-First-Fix: 27s (@ -147dBm, Cold start)

Communication
Quad-Band:
-CDMA2000 1xRTT (IS-2000)
-Class 0 (Tx:824-849MHz) for 869/894 Bands
-Class 1 (Tx: 1850-1910MHz) for 1930/1990 Bands

Inputs/Outputs
Digital Inputs: 6
Analog Input: 1
Relay Drive Outputs: 4 (150mA max. each)
Switched 12V Output: 1 (1.2A max.)
LED Drive Output: 1
RS-232 Port: 1 (5-wire)
1-Wire Port: Dallas iButton, Temp Sensors
Status LEDs: 2; GPS and Cellular

Carrier/Regulatory Approvals
AT&T, FCC, PTCRB, RoHS Compliant
Billing starts 7 days after purchase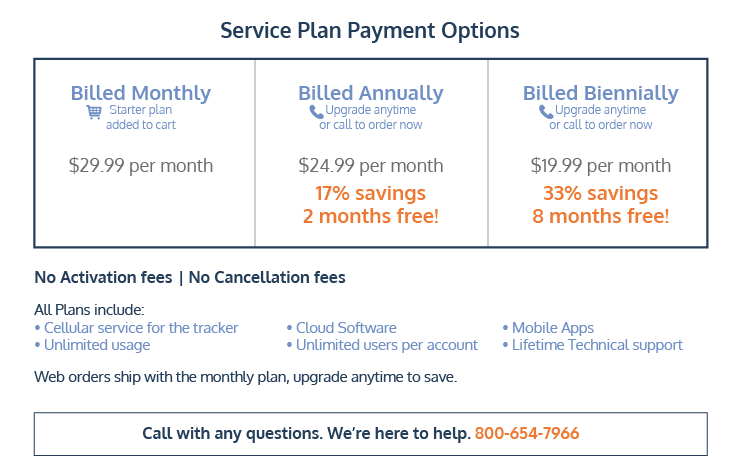 Your service plan includes the cellular service and cloud software required for use. This GPS tracker ships activated for immediate use. Just power up and you are ready to start tracking.
When you purchase a product from BrickHouse Security, you can expect exceptional customer care and support from our team. These are our guarantees:
Tech Support: All BrickHouse products come with free, unlimited lifetime technical support. Call (800) 654-7966 for assistance.
Warranty: All non-subscription devices purchased from Brickhouse Security include a 90-day protection plan, giving you the option to return within 30 days, replace, or receive technical support. All subscription devices are covered by a lifetime warranty, giving you the option to replace or repair your device as long as you have active service with us.
Returns: BrickHouse Security stands behind our products with a 30-day money back guarantee return policy. Return requests must be made within 30 days receiving your order. Requests made after 30 days may be denied.