The all-new Livewire 4 GPS Tracker operates over the lightning fast 4G network. This completely covert vehicle tracker gives you all the tracking power you need and can be installed in the vehicle without detection. Because it uses the vehicle's power source, you never have to worry about recharging batteries or missing important tracking data due to power loss.
With 60-second location updates, this powerful hidden car tracker puts you in total control of individual vehicles or fleets -- and drivers will never know it's there unless you tell them. Perfect for tracking fleet vehicles, this best-in-class GPS device features improved accuracy, and it's designed specifically to make locating and routing vehicles both simple and efficient.
Why Livewire 4?
Hardwired; no batteries required

60-second location updates

Works throughout North America!

Rapid Track lets you switch to even faster tracking when you need it
The Livewire 4 runs on BrickHouse Security's exclusive GPS platform, giving you a full range of features for tracking, monitoring, reporting, and more. Through our easy-to-use platform, you're able to receive speed alerts via text or email if a vehicle exceeds any speed you select. And our new Rapid Track feature lets you switch to an even faster tracking speed for brief periods of time when you need it most (desktop and laptop use only). The platform also allows you to set geofences, which send you an instant message the moment a vehicle enters or exits a predefined zone. Access highly detailed reports of a car or fleet's travel history, in addition to viewing the tracker's location in real time on three customizable map views. Access all of these features from any device with an internet connection, and check in on your vehicle location conveniently using the free, intuitive app.
Once your tracker has been installed, it may take up to 24 hours for it to connect to the network and begin reporting. Also note that this unit not only works in the U.S., it will also track perfectly in Canada and Mexico. If you need a new harness, see our Replacement Harness for Livewire GPS Vehicle Tracker.
Interested in purchasing multiple units? Discounted tracking rates available. Call for details.
In The Box
Livewire 4
Wiring Harness
Wiring Guide
Quick Start Guide
SIM card included and pre-installed
---
Dimensions: 3.5" x 2.15" x 0.5"
Power: Hardwired to use your car's power.
Transmission: 4G Cellular Coverage Across North America
Storage: Cloud Web Server
Service: Plans from $19.99 to $29.99
Special Feature: Fastest 4G vehicle tracker installed to be completely covert & managed via the app
This GPS unit ships configured to track in 60 second intervals. We will happily modify your tracking interval at any time after purchase. Please email support@brickhousesecurity.com with your request.
Physical Specs
 Dimensions (LxWxH):
 3.5" x 2.15" x 0.5", 89mm x 55mm, 12mm
 Weight: 3.28 oz, 93 grams
 Water Resistance: IPX5 Compliant
GNSS Specs
 GNSS Type: u-blox All-in-One GNSS Receiver
Environmental Specs
 Operating: -4ºF to 131ºF (-20ºC to 55ºC)
 Sensitivity:
 -161dBm Tracking
 -145dBm Cold start (unaided)
 Position Accuracy (CEP) Autonomous: < 2.5m
 TTFF (Open Sky) Cold Start: 30s Average, Hot Start: 1s Average.
GSM Specifications
 Frequency:
 -900/1800 MHz
 Data Transmission: GPRS multi-slot class 33 (33 by default), EDGE multi-slot class 33 (33 by default)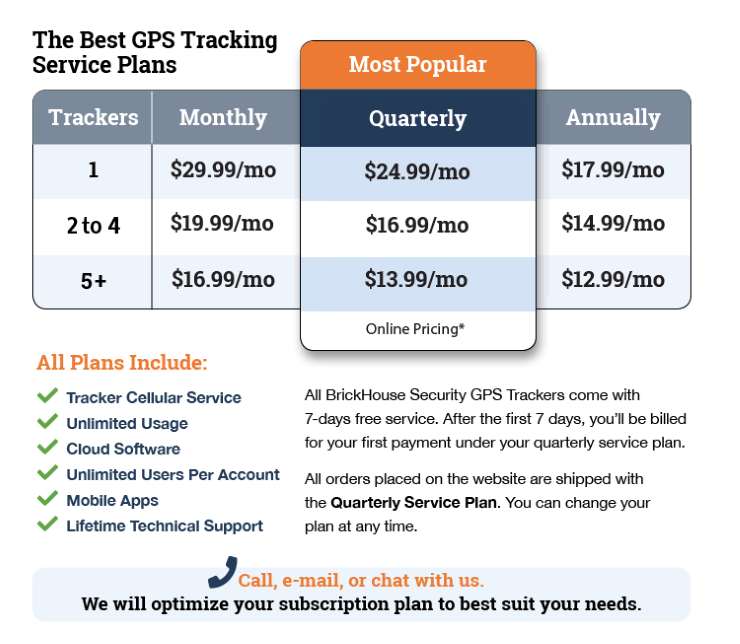 Your service plan includes the cellular service and cloud software required for use. This GPS tracker ships activated for immediate use. Just power up and you are ready to start tracking.
Click here to visit our Support Page for this Product. It contains User Manuals, FAQs, and more.
When you purchase a product from BrickHouse Security, you can expect exceptional customer care and support from our team. These are our guarantees:
Tech Support: All BrickHouse products come with free, unlimited lifetime technical support. Call (800) 654-7966 for assistance.
Warranty: All non-subscription devices purchased from Brickhouse Security include a 90-day protection plan, giving you the option to return within 30 days, replace, or receive technical support. All subscription devices are covered by a lifetime warranty, giving you the option to replace or repair your device as long as you have active service with us.
Returns: BrickHouse Security stands behind our products with a 30-day money back guarantee return policy. Return requests must be made within 30 days receiving your order. Requests made after 30 days may be denied.