Your business needs often include travel all around the world and you should be able to have access location information for all assets and vehicles at all times. The Spark Nano International Open Box is the certified refurbished version of the Spark Nano 4.0 GPS International Tracker, designed to keep in mind your company's financial constraints without sacrificing quality or reliability.
View the real-time movements of this compact GPS tracker from any computer, tablet, or smartphone, without the need for an app. BrickHouse's exclusive and easy-to-use online platform allows for easy tracking and setup of speed and geo-fencing boundaries. Set alerts via text and/or email when any location or speed parameters have been breached. Unlimited tracking is yours to be had 24 hours a day, 7 days a week with low a monthly tracking subscription, which will be added to your shopping cart automatically with this product. Billing of your subscription will not begin until 7 days after your purchase, allowing you time to receive and set up your equipment.
The weather-resistant body of this compact tracking device is equipped with a rechargeable battery designed to operate under normal conditions for up to 3 weeks. Extend battery life with onboard motion activation technology, able to reserve power for when it is truly needed. The Spark Nano International Open Box GPS Tracker reports using cellular GSM/GPRS networks. It will function almost anywhere in the world with no roaming fees.
Please note that this unit will only function properly if cellular service is available via one of our partner networks in each supported country. Check the Service Plan tab for important details, including countries that are not currently supported by the Spark Nano International.
In The Box
Spark Nano
Wall Charger
Cellular SIM Card (Already in device)*
---
Special Feature: Track anywhere with cellular service around the globe with real-time alerts
Dimensions: 1.05" x 0.62" x 0.33"
Power: Battery 7-10 days
Transmission: Cellular Coverage
Storage: Cloud Web Server
Service: Plan is $29.99 Billed Monthly
Our GPS Units ship configured to track in 1 minute intervals. We will happily modify your tracking interval at any time after purchase. Please email support@brickhousesecurity.com with your request.
Battery: 1300mAh, 3.7V Li-Polymer Backup Battery
Weight: 2.03 oz. (60 grams )
Dimensions: 2.66"x1.57"x0.83" (67.5mm x 40mm x 21mm)
Extreme Weather Reliability: -40º to 185ºF (-40º to +85ºC)
Water Resistance (Rating: IPX-5)
Quad-Band 850/900/1800/1900MHz
50-Channel All-In-View Tracking
GSM Phase 2/2+ Compliant
Equipped with Highly-Reliable uBlox 6 GPS Chipset
Interface: Mini-USB port for PC connection/Charging
Power Indicator: LED indicator
GSM, and GPS statuses, power and function buttons
A uBlox 6 All-in-one GPS receiver
Ability to locate within 9 to 10 feet (~2.5 meters) or less
3 Monitoring Options - Via BrickHouse Security GPS server, Purchase our white label tracking software to use on your servers, or use with your existing tracking Server
Cable length: 3 feet
Additional Tech Specifications:
GPS Accuracy: Within 10 feet
GPS Sensitivity/Sensor: 50 Channels
Cold-Start Time (when you've turned the unit on after having been turned off for more than 6 hours) - 29 seconds
Hot Start Time (when you've turned on the unit on after having been turned off for less than 5 minutes) - Less than 1 second
Carrier/Regulatory Approvals
AT&T, FCC, PTCRB, RoHS Compliant
Billing begins 7 days after purchase.
Need a deal on service for multiple trackers? Call for volume pricing!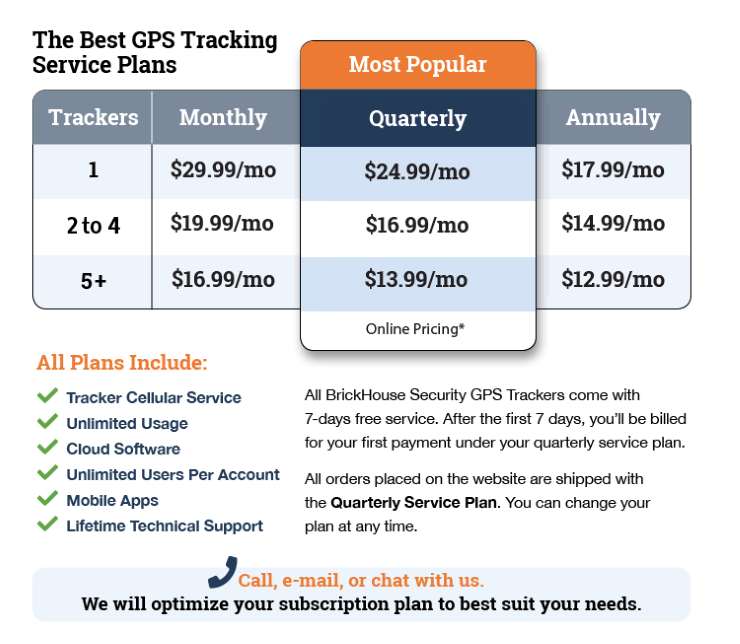 Your service plan includes the cellular service and cloud software required for use. This GPS tracker ships activated for immediate use. Just power up and you are ready to start tracking.
When you purchase a product from BrickHouse Security, you can expect exceptional customer care and support from our team. These are our guarantees:
Tech Support: All BrickHouse products come with free, unlimited lifetime technical support. Call (800) 654-7966 for assistance.
Warranty: All non-subscription devices purchased from Brickhouse Security include a 90-day protection plan, giving you the option to return within 30 days, replace, or receive technical support. All subscription devices are covered by a lifetime warranty, giving you the option to replace or repair your device as long as you have active service with us.
Returns: BrickHouse Security stands behind our products with a 30-day money back guarantee return policy. Return requests must be made within 30 days receiving your order. Requests made after 30 days may be denied.