TrackPort is now 4G! The new and improved TrackPort 4 GPS vehicle tracker is the easiest way to track a car or truck without worrying about battery life. The device is simply plugged into the vehicle's OBD-II port, normally located under the driver's side dash.
The tracking experience with the TrackPort 4 GPS vehicle tracker has gotten more intuitive and more mobile with new, exclusive apps for both Android and iPhone users. Check in on your vehicle's location from anywhere right from your smartphone.
More About Using the OBD-II Port
The OBD-II, or onboard diagnostics port, is normally located under the driver's side dash. This port has been standard on all vehicles sold in the United States since 1996. Plugging a device in here allows you to use your vehicle's existing port to supply uninterrupted power to the plug-in GPS tracker.
Switching cars? Unlike traditional hardwired tracking devices, this OBD plug-in GPS tracker can be easily moved from one vehicle to another with no tools and no effort. It's completely "plug and play."
Why TrackPort?
60-second location updates

No batteries to worry about

Powered by the BrickHouse Security Tracking Platform

Works throughout North America, in the U.S., Mexico, and Canada
If you need to track in other countries, you will need to consider our international tracking options.
Service discounts available for multiple units. Call for details
In The Box
TrackPort OBD-II GPS Tracker
Quick Start Guide
SIM card included and pre-installed
---
Dimensions: 2.4" x 1.8" x 1.1"
Power: Plug-in for power
Transmission: 4G Cellular Coverage Across North America
Storage: Cloud Web Server
Service: Plans from $19.99 to $29.99
Special Feature: Simple plug and play GPS Vehicle Tracker.
Please refer to your vehicle's owner's manual to locate its OBD2 port.
Our GPS Units ship configured to track in 1 minute intervals. We will happily modify your tracking interval at any time after purchase. Please email support@brickhousesecurity.com with your request.
Physical Specifications
 Dimensions: 2.4" x 1.8" x 1.1"
 Weight: 34 grams
 Body Material: ABS plastic
 IP Rating: IP50
Power Supply
 Voltage: 8-28V DC
 Power: 60mA (Active) 0.5mA (Sleep)
Operating Environment
 Temperature: -30ºC to 70ºC
 Humidity: 5 to 95%
Cellular
 Modem: Cat M1
 TCP/IP over PPP
 Antenna: Internal
 Cell Provider: AT&T
GPS
 Antenna: Internal
 Receiver Type: 72 channels
 Position Accuracy: Autonomous<2.5M
 Sensitivity: -165dBm
 Navigation update: 1 second
 Time to First Fix (TTFF): Hot Start <1 second
 Time to First Fix (TTFF): Aided start <1 second
 Time to First Fix (TTFF): Cold start 27 seconds
CPU
 Static RAM: 32KB
I/O
 Digital Input: No
 Digital Output: No
 USB: Configuration
Carrier/Regulatory Approvals
 AT&T, FCC, PTCRB, RoHS Compliant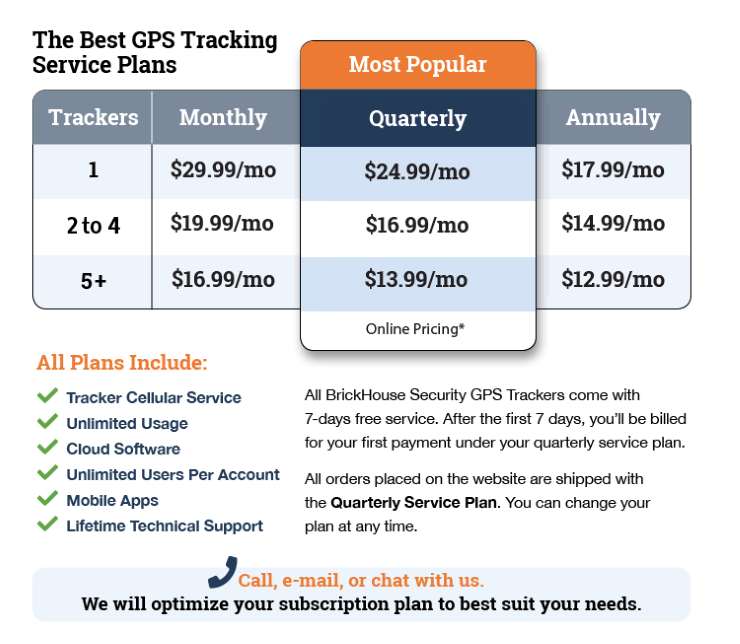 Your service plan includes the cellular service and cloud software required for use. This GPS tracker ships activated for immediate use. Just power up and you are ready to start tracking.
Click here to visit our Support Page for this Product. It contains User Manuals, FAQs, and more.
When you purchase a product from BrickHouse Security, you can expect exceptional customer care and support from our team. These are our guarantees:
Tech Support: All BrickHouse products come with free, unlimited lifetime technical support. Call (800) 654-7966 for assistance.
Warranty: All non-subscription devices purchased from Brickhouse Security include a 90-day protection plan, giving you the option to return within 30 days, replace, or receive technical support. All subscription devices are covered by a lifetime warranty, giving you the option to replace or repair your device as long as you have active service with us.
Returns: BrickHouse Security stands behind our products with a 30-day money back guarantee return policy. Return requests must be made within 30 days receiving your order. Requests made after 30 days may be denied.